For more than 30 years, Powercap Electric have provided exemplary service to our valued customers in the Electrical and Electronics industry. Throughout the years, we have supported customers across the globe and presently focus more on the regions of Asia and Oceania. Furthermore, we deliver solutions and services for the products as the exclusive agent working with the auspices of the Siemens Group which has been the centre of excellence force with a ca. 170 years of foundational growth since 1847.
Surge arresters protect electrical equipment from overvoltages caused by incoming surges. Overvoltages can be caused by direct or indirect lightning strikes, electromagnetic pulses, electrostatic discharges, or device switching. Some overvoltages are very powerful. The surge current is diverted through the arrester, usually to earth. Depending on the application, different surge arrester types are needed for effective overvoltage protection.
Railway Surge Arrester
Reliable, stable, and safe overvoltage protection
In railway systems, Siemens Energy surge arresters help make sure that lightning overvoltages do not result in damage to the insulation in system components and the traction vehicles themselves. Surge arresters meet all worldwide requirements for the overvoltage protection of rail vehicles and electrification. The comprehensive portfolio makes it possible to find the ideal surge arrester for any conceivable application and meet even specific demands, such as:
• high mechanical stability to withstand vibrations and high wind speeds
• extremely reliable pressure relief behaviour when special protection is required
• excellent pollution layer characteristics for coastal and desert regions and areas with extreme air pollution
Standards and testing – reliability you can count on
Siemens Energy surge arresters for rail applications comply with the latest versions of
• IEC 60099-4, Metal-oxide surge arresters without gaps for AC systems
• DIN EN 50526-1, Railway applications – DC surge arresters and voltage limiting devices
• DIN EN 45545-2, Railway applications – Fire protection on railway vehicles
• IEC 61373, Railway applications – Rolling stock equipment – Shock and vibration tests
(tests performed by independent laboratories, reports available on request)
Every Siemens Energy surge arrester for rail applications undergoes a routine test and comes with a routine test certificate.
Siemens Energy meets all requirements of ISO 9001:2008, ISO 14002:2004, and BS OHSAS 18001:2007. All Siemens Energy suppliers are certified according to ISO standards or audited by Siemens Energy. Siemens Energy's corporate quality guidelines ensure sustainable quality improvement.
Product Range
3EB4 surge arrester for rail applications
• Housing made of fiber-glass reinforced plastic (FRP) hollow core and silicone rubber sheds
• For AC systems up to 25 kV
• For DC systems up to 3 kV
• Travel speed up to 420 km/h
• Short circuit current capability up to 50 kA
For use on:
• High-speed trains and intercity trains
• Commuter and regional trains
• Locomotives
• Urban transportation (light rail, metros and tram cars)
• Rail electrification
3EB5 surge arrester for rail applications
Cage Design™ with directly molded silicone rubber housing
• For AC systems up to 25 kV
• For DC systems up to 3 kV
• Travel speed up to 320 km/h
• Short circuit current capability up to 65 kA
For use on:
• Intercity trains
• Commuter and regional trains
• Locomotives
• Urban transportation (light rail, metros and tram cars)
• Rail electrification
3EB2 surge arrester for rail applications
• Housing made of silicone rubber
• For DC systems up to 3 kV
• Travel speed up to 160 km/h
• Short circuit current capability 40 kA
• Classification DC-B
For use on:
• Urban transportation (light rail, metros and tram cars)
• Rail electrification
3EB3 surge arrester for rail applications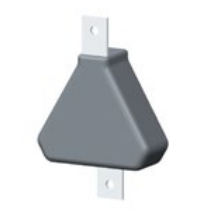 Housing made of silicone rubber
• For DC systems up to 3 kV
• Travel speed up to 160 km/h
• Short circuit current capability 40 kA
• Classification DC-C
For use on:
• Urban transportation (light rail, metros and tram cars)
• Rail electrification
More Detailed Information: Railway Surge Arrester